About Miss Cleo
Miss Cleopatra or otherwise known to her closest canine friends as 'Miss Cleo is the subject of Cleo's Barkery™ , located in Westchester. Cleo is the pride and joy of its owner and creator Christine Ciaramello. This beloved 9-year-old Doberman/Bull terrier is friendly and fun loving.
Cleo is the watchdog of the family and the pride and joy of her owners. The princess of all she reigns. Miss Cleo has many doggie friends who indeed celebrate their birthdays, so Cleo's owner made an All Meat Canine Birthday Cake one day and her canine companions gobbled it up! Miss Cleo barked her way into her owners heart for more creativity, now Cleo's Barkery™ makes a variety of flavor's (Lamb, Turkey, Venison, Chicken, White Fish, Duck & Vegetarian) canine cakes as well as cookies and cupcakes. Cleo's Barkery™ offers simple but complete party packages starting with the Single Dog Party up to 50. Party Package Includes: One Homemade All Meat Canine Birthday Cake, Happy Birthday Hat, Happy Birthday Bandanna, Doggie Treat Bag and Complimentary Carob Cupcakes for your dogs Special Day!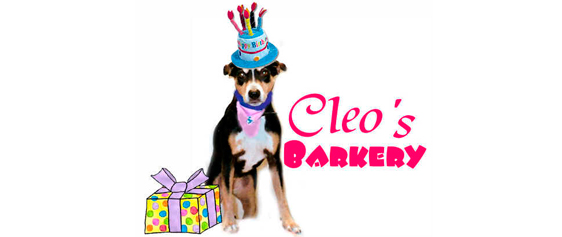 Cleo's Barkery™ delights friends and families of beloved doggie owners with her doggie cakes and cookies for any occasion, made with the only the finest ingredients your doggie demands. Choose from a 6", 8" or 10" Canine Birthday Cake with all the trimmings and decorations, as well as party favors supplied for your doggie's attire. Cleo's Barkery™ is a convenient way to create a great event for your beloved dog.